Castor and Wheel Accessories
Castor and wheel accessories for Branach Safety Step Platform Ladders.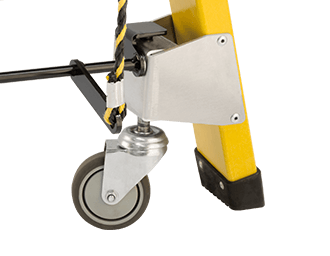 Lever Actuated Castors
The default position of the castors is retracted. Operating the lever lowers the castors allowing the platform to roll freely. Ground clearance when activated is 10-12 mm. Lever Actuated Castors provide an easy way to move your ladder around the work site. This will reduce the potential chances that you or your employees get injured while moving the ladder around. Lever Actuated Castors are great if you are having mobility issues with your ladder or just want to increase efficiency and safety when moving your ladder.
---
PRODUCT CODE(S)

CN (WorkMaster 450mm Step Platform)
CW (WorkMaster 550mm Step Platform)
CC (CorrosionMaster 550mm Step Platform)
COMPATIBLE PRODUCT(S)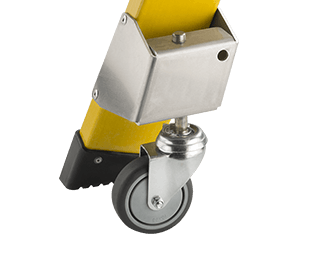 Spring Loaded Castors
Spring Loaded Castors. Default position of the castors is down to allow the platform to be moved easily. The castors retract under the weight of the user. Spring Loaded Castors reduce wear on floors and extend castor, wheel and bearing life which means your ladder will last longer. Spring Loaded Castors are practical if you need to frequently reposition your ladder around a factory floor or large flat areas.
---
PRODUCT CODE(S)

CA
COMPATIBLE PRODUCT(S)
Note: Spring Loaded Castors can only be fitted to platforms up to 1.8m - platforms over this size require Lever Actuated Castors.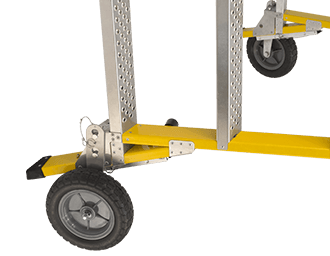 Outdoor Wheel Kit
The Outdoor Wheel Kit provides wheels that can be attached to the side and front of ladder legs, allowing the user to tip the ladder and pull or push it around uneven ground with ease. The Outdoor Wheel Kit improves mobility and reduces the risk of equipment damage, while providing a higher level of safety for workers. The Outdoor Wheel Kit is particularly useful if the ladder frequently needs to be moved around a large work site.
Includes
2 wheels
4 brackets for connecting
---
PRODUCT CODE(S)

OK – All Legs
(WorkMaster 450mm Step Platform, WorkMaster 550mm Step Platform, CorrosionMaster 550mm Step Platform)
COMPATIBLE PRODUCT(S)